White Paper: How to Overcome the Growing Nurse Shortage
The nursing shortage has been a critical issue in hospitals for years, and it is only getting worse. In order to provide quality patient care, hospitals must take action now to alleviate the challenges of the growing nursing shortage.
Our white paper provides key data points and actionable strategies to help your hospital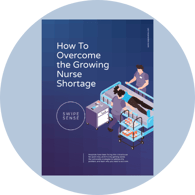 overcome the effects of the nursing shortage. Check out more of what's inside:
A Nursing Shortage Data Breakdown
How the Nursing Shorage has Impacted
Hospitals' Bottom Line
What Nurses Want from Their Hospital
Top Strategies to Retain Great Nurses
How Technology Can Support Nurses
Fill in your information for instant access to your free digital copy of the white paper.